If you want to make peace,
you don't talk to your friends.
You talk to your enemies.


Mother Teresa of Calcutta
"Keep the joy of loving the poor and share this joy with all you meet. Remember works of love are works of Peace. God Bless you..."
A clean heart is a free heart. A free heart can love Christ with an undivided love in chastity, convinced.
A free heart can love Christ with an undivided love in chastity, convinced that nothing and nobody will separate it from his love.
Purity, chastity, and virginity created a special beauty in Mary that attracted God's attention. He showed his great love for the world by giving Jesus to her.
There is a terrible hunger for love.
We all experience that in our lives - the pain, the loneliness.
We must have the courage to recognize it.
The poor you may have right in your own family.
Find them.
Love them.
Before you speak, it is necessary for you to listen, for God speaks in the silence of the heart.
Give yourself fully to God. He will use you to accomplish great things on the condition that you believe much more in His love than in your own weakness.
Speak tenderly to them. Let there be kindness in your face, in your eyes, in your smile, in the warmth of your greeting. Always have a cheerful smile. Don't only give your care, but give your heart as well.
The more you have, the more you are occupied, the less you give.
But the less you have the more free you are. Poverty for us is a freedom. It is not mortification, a penance.
It is joyful freedom. There is no television here, no this, no that. But we are perfectly happy.
I pray that you will understand the words of Jesus, "Love one another as I have loved you."
Ask yourself "How has he loved me? Do I really love others in the same way?" Unless this love is among us, we can kill ourselves with work and it will only be work, not love. Work without love is slavery.
Little things are indeed little, but to be faithful in little things is a great thing.
A sacrifice to be real must cost, must hurt, must empty ourselves.
The fruit of silence is prayer, the fruit of prayer is faith, the fruit of faith is love, the fruit of love is service, the fruit of service is peace.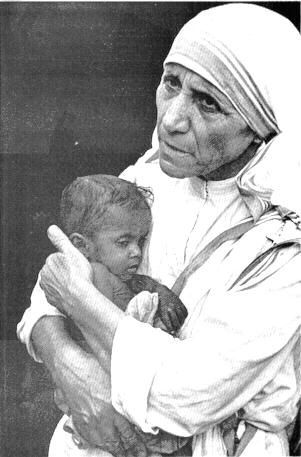 Quotes of Mother Teresa
We cannot all do great things, but we can do small things with great love.
Intense love does not measure; it just gives.
If you judge people, you have no time to love them.
Peace begins with a smile.
True holiness consists in doing God's will with a smile.
I have found the paradox that if I love until it hurts, then there is no hurt, but only more love.
If we have no peace, it is because we have forgotten that we belong to each other.
We can do no great things; only small things with great love.
If you want to make peace, you don't talk to your friends. You talk to your enemies.
It's not how much we give but how much love we put into giving.
If you can't feed a hundred people, then feed just one.
It is a kingly act to assist the fallen.
Spread love everywhere you go: First of all in your own house... let no one ever come to you without leaving better and happier. Be the living expression of God's kindness; kindness in your face, kindness in your eyes, kindness in your smile, kindness.
Kind words are short and easy to speak, but their echoes are truly endless.
I prefer you to make mistakes in kindness than work miracles in unkindness.
Words which do not give the light of Christ increase the darkness.
Mother Teresa of Calcutta.