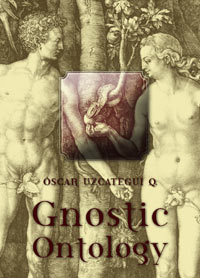 The book Gnostic Ontology appears before the solemn verdict of the public conscience at a crucial moment, when humanity debates, today more than ever, the dilemma of To Be or Not to Be.
Unquestionably, the studies that have always affirmed that
Gnosis appears at crucial moments when humanity experiences a lack of personal identity and suffers complete bankruptcy of ethical and philosophical principles" were not wrong.
The questions that are put to the Gnostic interlocutor in these pages, receive very clear answers from the philosophical, ethical, moral, social and spiritual points of view.
The dialog presented by the author of this work, Óscar Uzcategui, allows us to get into the most incisive questions which normally come to our minds in front of the avalanche of phenomena and events which bombard us constantly. Gnostic Ontology responds, in this way, to all the questions that normally rise when the human being wants to live life in agreement with the transcendent principles of the great religions that spread across the five continents of our world.
This book fulfills an important mission among the Gnostic students because it impartially approaches all the inquietudes of the lovers of the truth, answering in a categorical manner to a variety of enigmas that the multiple religious and philosophical paths of our days prefer to hide, or to transform into dogmas of faith.
It is being written that the secret thread that stays at the basis of all religions was, is and will be the Gnosis, and only through this enigmatic thread it would be possible to explain to the human being the real motive of the theological religare.
We wish for our readers the blessings of the Great Kabir of all times, the same ones that could be very well synthesized in one:
Blessed be the hungry (of wisdom) because they will be satiated.
Order this book

Western Europe and Noth America

Center and South America, Eastern Europe and Asia

The price is 13.2Eur

The price is 6.6Eur
Table of Contents: "Gnostic Ontology"

| | |
| --- | --- |
| Chap. 1 | WHAT IS GNOSIS |
| Chap. 2 | GNOSIS AND CHRISTIANITY |
| Chap. 3 | GNOSIS AND SCIENCE |
| Chap. 4 | GNOSIS AND PSYCHOLOGY |
| Chap. 5 | GNOSIS,REINCARNATIONAND THE LAW OF KARMA |
| Chap. 6 | GNOSIS AND HYPERSPACE |
| Chap. 7 | GNOSIS AND ESCATOLOGY |
| Chap. 8 | GNOSIS AND PHILOSOPHY |
| Chap. 9 | GNOSIS, SPIRITUALISM AND ESOTERIC SCHOOLS |
| Chap. 10 | GNOSIS AND THE METAPHYSICAL PHENOMENA |
| Chap. 11 | GNOSIS, PSEUDO-ESOTERISM AND MAGIC |
| Chap. 12 | GNOSIS AND ETHICS |
| Chap. 13 | GNOSIS AND EXTRAORDINARY PHENOMENA |
| Chap. 14 | GNOSIS, IDEOLOGIES AND POLITICS |
| Chap. 15 | GNOSIS AND STRANGE DISEASES |

| | |
| --- | --- |
| Chap. 16 | GNOSIS AND ECOLOGY |
| Chap. 17 | GNOSIS AND EARTHLY APOCALIPSIS |
| Chap. 18 | GNOSIS AND UFO'S |
| Chap. 19 | GNOSIS AND SPEOLOGY |
| Chap. 20 | GNOSIS AND SEXUALITY |
| Chap. 21 | GNOSTIC ANTHROPOLOGY |
| Chap. 22 | GNOSIS AND ART |